Infrared Thermal Imaging Solutions
Essentials for Accurate Fever Screening
Accurate to within ±0.3°C ✓

Easy-to-use interface ✓

Systematic and repeatable process ✓

Allows uninterrupted pedestrian traffic flows ✓

Provides visual and audible alerts ✓

Uses a black-body temperature reference source ✓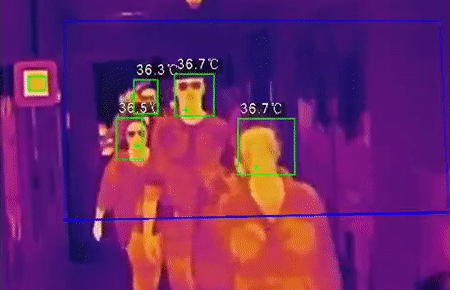 What is Infrared Temperature Screening?
Infrared Temperature Screening is the ideal method for conducting preliminary screening safely, effectively, and efficiently for COVID-19 and similar virus outbreaks. Our solution provides a non-invasive process that can accurately assess the body temperature of delegates or personnel at safe distances and instantly alerts when fever-like temperatures are recorded. This allows fast and precise fever detection and ensures the health and safety of everyone entering a building or venue. After extensive research and evaluation, we have found the solution that meets the high Congress Rental standards, to cover a wide range of applications and needs.
Benefits of Infrared Temperature Screening
Non-Invasive
A long range of up to 4.5m gives the ability to assess a person's temperature without contact, even while they are wearing a mask.
Fast
Our thermal camera scans people as they walk past at a rate of up to 30 people per second so there is no need to queue.
Risk Reduction
Reduce the risk of spreading infections and maintain proper social distancing between individuals during COVID-19 and other virus outbreaks.
Accurate
Accurate to within ±0.3°C at long ranges through the use of a black-body, which provides a constant reference point for comparison.
Infrared fever screening for every scenario
Fast and effective way to protect your delegates
​
Reassure delegates their safety and comfort are a top priority

Fast deployment as a portable/mobile solution.

High-speed screening to eliminate queues

Screening attendees before entering the venue reduces risk for staff and organisers

Facial recognition capabilities